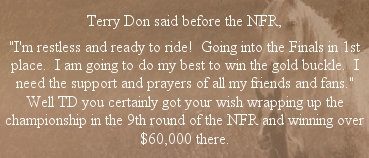 Call me today at:

(918) 521-1068

Career Info:

1984 - 1992 - IPRA

1991 - 1996 - PRCA

1993 - 1995 - BRO

1997 - Took year off to recover from injury

1998 - 2000 - PBR

2001 - 2003 - PRCA

2005 -            PRCA

Major titles that I have won:

1985 - IPRA World Champion Bull Riding

1991 - IPRA World Champion Bull Riding

1995 - PRCA Reserve World Champion

1996 - PRCA World Champion Bull Riding

1998 -PBR Holds second place record for most consecutive rides (15) 

2003 - PRCA World Champion Bull Riding

Terry Don also went to Brazil & Australia and was able to compete for Team America Bull Riding.

"Terry Don West is 1 of the top 5 bull riders of all time," at least according to rodeo legend, Donny Gay.  He is a proven rodeo champion and bull riding instructor.  From incredible 90+ point rides, to bone crushing injuries, Terry Don West has literally seen it all.  His accomplishments are definitely in elite company when comes to bull riding.  He was one of only a hand full of bull riders to ever successfully cover the infamous bull, Bodacious...  And Terry Don West covered this magnificent animal twice! 

Bodacious 

Did you know that the first time I rode Bodacious I earned $181.00 and the last time it was $10,000.00. 

"World Champion Bull Rider"